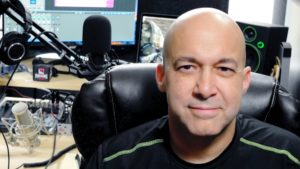 Welcome to session #54 of The Podcast Engineering Show! Listen and Subscribe in Apple Podcasts, Google Play, iHeart Radio, Stitcher, TuneIn Radio, Android, RSS.
My guest is Arik Levy – Law Enforcement Officer, Host of Firearms Nation Podcast, Creator of Shooter's Summit and the Firearms Nation YouTube channel.
We had a fun discussion.
Here is some of the equipment that Arik uses:
Rode PSA1 Boom Arm
dbx 286s
Focusrite 2i2
Macbook Pro
Logic Pro
Zoom H6
Rode NT-1
He wants to try the Rode Broadcaster microphone
Also interested in the upcoming release of Sound Devices MixPre 3 and MixPre 6
Listen to the full episode to hear all the fun and great info.
Thanks for hangin' with me and Barry, Arik!
DID YOU KNOW……..We exist for the purpose of helping you, so please comment below with any questions or remarks. Thanks for listening!
Want to Start a Business or Have a Career as a Podcast Producer/Engineer?

Listen and Subscribe in iTunes, Google Play, Stitcher, TuneIn Radio, Android, RSS
.