I'm Chris Curran – founder of Podcast Engineering School. My background is in the world of music engineering and production. For years I had the honor of making records with famous artists and accumulating lots of album credits. (check out my bio here)
Since entering the world of podcasting in early 2012, I realized that most podcasters and podcast producers have very little or no audio engineering skills, which virtually cripples the quality of their sound from the very beginning.
Currently the industry of podcasting is an accepted and proven content marketing channel – kinda like blogging and social media. That means lots of companies, organizations, authors, etc. are jumping in and starting their own podcasts. Consequently, more and more podcast production companies are emerging all over the place (including mine) as well as companies who are hiring podcast engineers to produce podcasts for them in-house.
There's a problem here though – most individuals who engineer/produce podcasts have very weak audio skills, knowledge and software. And no school exists to provide the highest level of podcast production training – until now 😉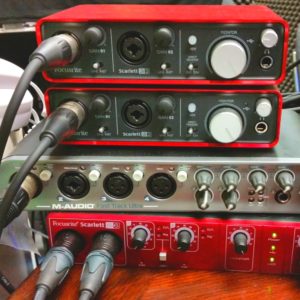 Podcast Engineering School gives its students all the necessary skills and knowledge (and drastic software discounts) to make them the absolute BEST engineers/producers in the entire podcasting industry – rock solid professionals who can handle any situation. Graduates will have an unfair advantage in the world of podcast production; they'll be able to start or grow their own production company, or join a company as an employee. It's nice to be a respected professional at the highest level and always be in demand.
Personally, I'm totally psyched about elevating the quality of our students lives and careers, and elevating the quality of podcast audio everywhere.
Sound great!
~Chris Curran
Founder, Podcast Engineer/Producer