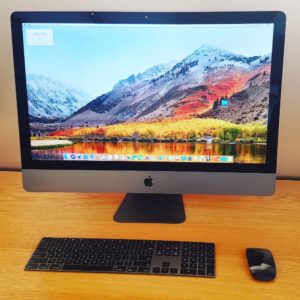 Welcome to session #79 of The Podcast Engineering Show! Listen and Subscribe in Apple Podcasts, Spotify, Google Play, iHeart Radio, Stitcher, TuneIn Radio, Android, RSS.
Note: This is not a standard TPES episode – this is me sharing lots of cool info.
Here's what I covered:
End of year purchases
iMac Pro
MixPre6
Pistol grip for my AT8035 shotgun mic
Ralph M. Rivera purchased Bose QuietComfort 35 II headphones – bluetooth sounds great – very comfortable and light – can use them to talk on the phone too – $350
Configuration of the iMac Pro
3.0GHz 10-core Intel Xeon W processor, Turbo Boost up to 4.5GHz
64GB 2666MHz DDR4 ECC memory
2TB SSD
Radeon Pro Vega 56 with 8GB of HBM2 memory
My plans for the iMacPro
Have one production space instead of a recording table and a mixing desk.
Live streaming with video and several participants.
Green screen.
Webinars and screen captures.
Move all plugins from current production computer to the new one.
Sennheiser MKH416 would be nice.
2017 Reflections
First 2 semesters of PES went extremely well.
PM17 was good but working a booth made it a blur.
As always, some clients came and went.
2018 Plans
Podcast Movement – not sure if I'll be doing the Microphone Test-Drive Booth again.
Four Podcast Engineering School semesters starting Jan.9, Apr. 3, Jun. 26 and Sep. 18
My upcoming PechaKucha talk at Podfest
Title: EQ – What You Need to Know about Equalization
Description: Learn the fundamentals of why, what and how to use EQ. Hear examples of good and bad audio.
Audio examples: Too much low end, too much high end harshness, harsh esses, phone sound, road noise with uncompressed voice getting lost in it at times, too much reverb, huge dynamic range raw and then compressed
How I processed Hardcore History episodes for my road trip
Why? Prius is a light car with more than average road noise.
Batching in RX 6 and Sound Forge Pro
Saved to mono first (to half the processing time for all subsequent steps), then leveling and loudness. – created awful sounding MP3's.
Should have done everything in RX 6 first, exported as a WAV, then opened in Sound Forge Pro and saved as a mono MP3.
Podcasters' Society: A truly awesome community
Experience with the Pause Your Life podcast
Producer always worked in mono only and converted all music to mono.
Suggestion: You should always leave stereo music stereo because it doesn't hurt anything and you can always render to mono.
Fixing a harshly EQ'd voice – Fabfilter MB multiband compressor in the 3-10k range
Thanks for listening!
DID YOU KNOW……..We exist for the purpose of helping you, so please comment below with any questions or remarks. Thanks for listening!
Want to Start a Business or Have a Career as a Podcast Producer/Engineer?

Listen and Subscribe in Apple Podcasts, Google Play, iHeart Radio, Stitcher, TuneIn Radio, Android, RSS
.